Best BHAI DOOJ Wishes, Greetings, Whatsapp Messages, Quotes, Images 
Happy Bhai Dooj!

Wish your family and loving friends with these special SMS/Messages, greetings, wishes, wallpapers,

and

 quotes. Update your WhatsApp and Facebook status with these special messages and greetings.
First Of all, Happy Diwali to you. Diwali celebration isn't over now. Here comes the festival of Bhai Dooj, which is a celebration of a beautiful relationship between a brother and sister.  Bhai Dooj l is also called Bhau-Beej and Bhai Tika. On Bhai Dooj, sisters put tilak 

or 

tikka 

on their brothers' foreheads and pray for their long lives. 
Celebrate Bhai Dooj with family and lots of great food and 
mithai And SHare these Messages. 
BEST BHAI DOOJ SMS/MESSAGES 
Enjoy This Bhai Dooj With these Best Wishes, Messages and Share them on Whatsapp or Facebook Status. 
Bhaiya, you are someone
I admire and look up to,
with lots of love wishing you
Happy Bhai Dooj!
Behen chahe bhai ka pyaar,
Nahin chahiye usse koi mehenga uphar,
Rishta yeh pyara rahe sadiyon tak atut,
Mere pyare bhaiya ko mubarak ho

 Bhai Dooj
Bhaiyaa, you are someone I admire and look up to, with lots and lots of love wishing you, Happy Bhai Dooj
Send This Image with your Friends and loving ones.
Praying for your long life and good health on this Bhai Dooj and always have a Chocolaty Bhai Dooj


You were always my best friend, Looking out for me, making sure the path I traveled on was smooth.
 Even if I searched the world over,
 There cannot be a better brother than you.
 Happy Bhai Dooj! 
My love for you is measureless.
 My blessings to you are unlimited.
 Dear Brother you will always be my friend a guide and a hero. 
Happy Bhai Dooj.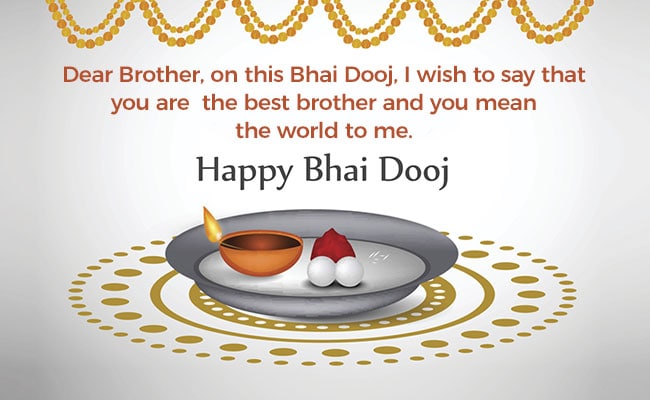 Send this Images with your Loving Ones.
Dear Brother while putting tikka I pray to God for your peace happiness and prosperity. A warm and loving person like you deserves the best of life. Happy Bhai Dooj.
You never say no you never say that's impossible and you never say you can not. That's my bro a superman who make things possible and who make paths smoother. I love you, Bro.
B
est
R
eliable
O
utstanding
T
alented
H
andsome
E
nergetic
R
emarkable
That is all you.
I'm so lucky to have a brother like you!
Happy Bhai Dooj, 
Bhaiya
"I sought my soul but my soul; I could not see.
 I sought God but my God eluded me.
I sought my brother I could found all three.
 Happy Bhai Dooj."
Near or far wherever you are,
My best wishes are with you,
Tum jiyo hazaron saal,
May success and joy be yours every day,
Yeh hi meri
 wish 
dil se.
We may be far from each other but you are always in heart.
 On the occasion of Bhai Dooj cherishing the fond memories, we spent together.



The sky

is blue, feel this hue,
My love is for you Bhaiya, always true.
Loads of Good Wishes for Bhai Dooj..!!
Another fresh Bhai Dooj is here Another year to live!
 To banish worry, doubt, and fear,
 To love and laugh and give!
 Happy Bhai Dooj to my little brother!
Dear Brother,
 on this Bhai Dooj, I wish to say that you are the best brother and you mean to me the whole world.
 -Happy Bhai Dooj.
Praying for your long life and good health
on this Bhai Dooj and always
Have a blessed Bhai Dooj
BEST BHAI-DOOJ QUOTES 
Send Some Bhai Dooj Quotes with your family and loving one's. 
"Siblings: children of the same parents, each of whom is perfectly normal until they get together." – Sam Levenson
"Sometimes being a brother is even better than being a superhero." – Marc Brown
"A brother is a friend given by Nature." – Jean Baptiste Legouve
"A sibling is your only enemy you can't live without." – Unknown
"As we grew up, my brothers acted like they didn't care, but I always knew they looked out for me and were there!" – Catherine Pulsifer
"Be nice to your siblings, they're your best link to your past and the most likely to stay with you in the future." – Baz Lurhmann"
Your siblings are the only people in the world who know what it's like to have been brought up the way you were. – Betsy Cohen
"When you have a lot of siblings, you always do something to feel special." – Lee Daniels
"Our brothers and sisters are there with us from the dawn of our personal stories to the inevitable dusk." – Susan Scarf Merrell
"There's no other love like the love for a brother. There's no other love like the love from a brother." – Terri Guillemets
Best Bhai Dooj Messages In HINDI

 
कैसी भी हो एक बहन होनी चाहिये……….
बड़ी हो तो माँ- बाप से बचाने वाली.
छोटी हो तो हमारे पीठ पिछे छुपने वाली……….॥
बड़ी हो तो चुपचाप हमारे पाँकेट मे पैसे रखने वाली,
छोटी हो तो चुपचाप पैसे निकाल लेने वाली………॥
छोटी हो या बड़ी,
छोटी- छोटी बातों पे लड़ने वाली,
एक बहन होनी चाहिये…….॥
बड़ी हो तो, गलती पे हमारे कान खींचने वाली,
छोटी हो तो अपनी गलती पर,
साँरी भईया कहने वाली…
खुद से ज्यादा हमे प्यार करने वाली एक बहन होनी चाहिये…. ….॥
भाईदूज की शुभकामनाय
ham dost ko bhula  nahi karate hai
sathiyon  ko yad kar rahan hoon
Ham bhulne  ke liye dost banane nahi karate hai
Que ki Diwali mein sms Aur bhej rahan hoon
Shubh Diwali ki Shubhkamanaye 2018
Happy Bhai dooj 2018
भाई-बहन का रिश्ता बडा ही प्यारा होता है,
इस प्यार को तो भगवान भी तरसता है,
मेरी तो रब से यही दुआ है सभी भाई-बहन में प्यार बना रहें
और कोई भी उन्हें अलग करने की कोशिष ना करें….
भाई दोज के ईस पावन अवसर पार
आपकी हर मनोकामना पूूरी हो
और वो हर चीज आपके पास रहे
जीस भाई का प्यार मिलता है
और खुश नसीब होते है वो भाई बहन
जिनहे भाई दोज का tyohaar milata है।
Hamare is rishte ki mithaas.
Bhaidooj ki Shubhkaamnaayein.
Na pade kabhi lose
Meri pyari behena
Happy Bhai Dooj.
Na pade kabhi lose
Meri pyari behena
Happy Bhai Dooj.
Lal rang ka chunari se sajate hai mata Laxmi ka ham log mandir ko
khushiyali raheta log is festival me to khushi hain sansar
kadam bade mata Laxmi gee ke aapa ke ghar
badhai ho diwali ki tyohar
Wishing You a Very Bhaiya dooj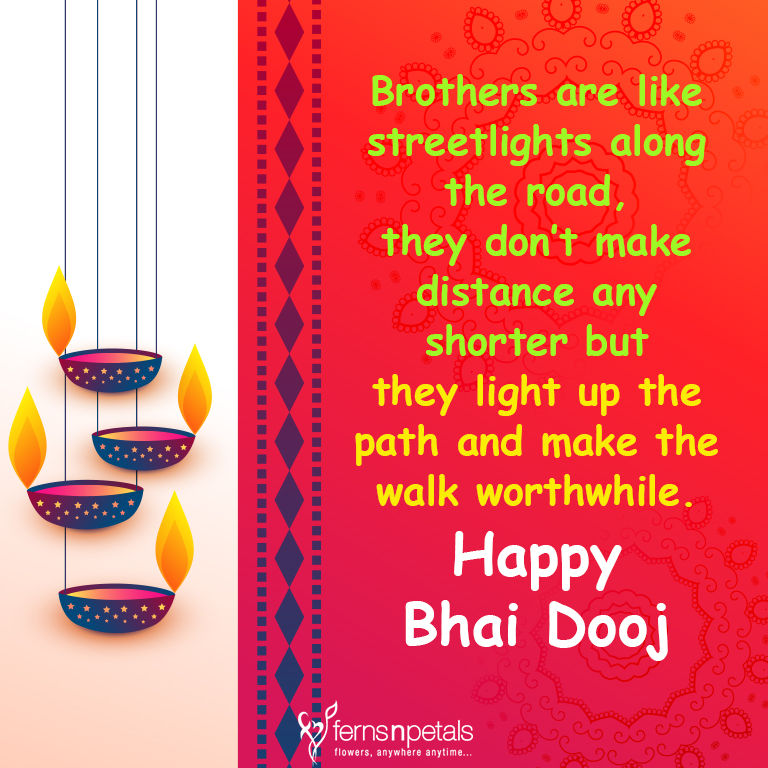 Bhaiya Dooj ka hai tyohar
Behen mange bhai se rupee hazar
Tilak laga ker mithai khila kar
Deti aashirwad khush raho har bar
Happy Bhai Dooj Messages in Hindi Language, Happy Bhai Dooj Messages, Bhai Dooj Quotes, Bhai Dooj Wishes, Happy Bhai Dooj Whats app Messages, Bhai Dooj Status, Bhai Dooj Greetings, Best Wishes, Bhai Dooj Images 
Also see-

 
 BEST HAPPY DIWALI WISHES, MESSAGES, Whatsapp Status, Greetings